the winners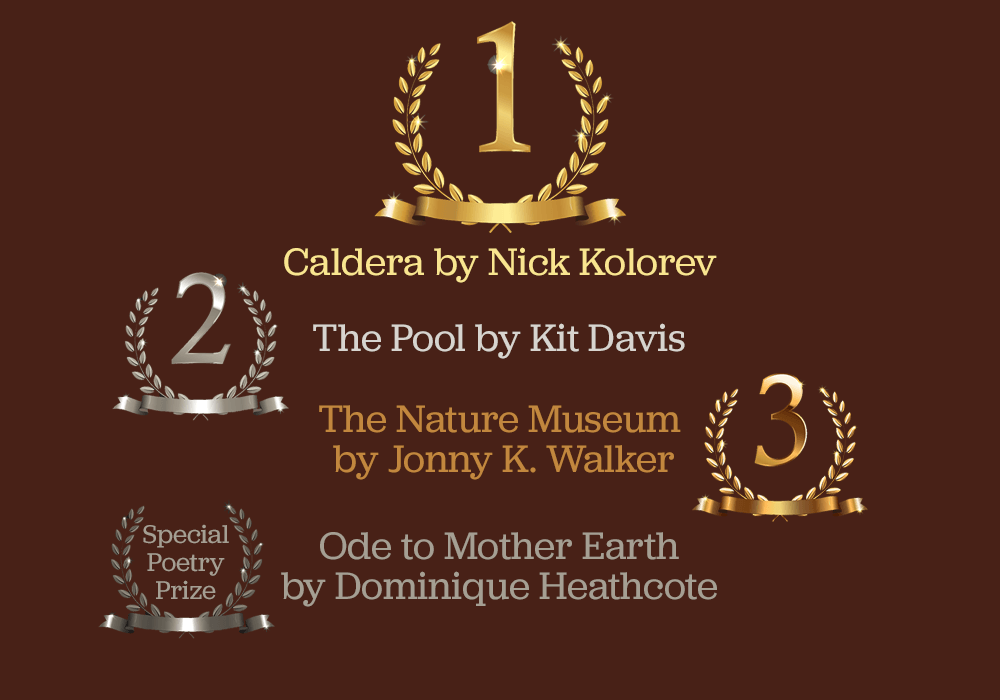 Finally. The best short stories of almost 1,500 entries, obviously the cream of the crop. We are not going to comment on any of the stories, because we believe they speak for themselves.
All these pieces and those of the seven runners-up can be read by clicking on the images below. The other long-listed stories can be found on the short stories page by clicking
here
.
The End of Our World
the contest
The purpose of this contest was to inspire writers to create stories to raise awareness of the harm that we are doing to our planet. The response was impressive. We received almost 1,500 entries. Obviously it has been a grueling task for our editors to read all those short stories in three months' time. Especially because they comprised amazingly little rubbish that could be tossed aside after a few lines. It was also fascinating and rewarding. We believe the result was well worth the effort. These short stories are exceptionally good, highly original and, above all, relevant and meaningful, cautionary tales, food for thought. They offer glimpses of the future awaiting us if we do not change our lifestyles and do so drastically and at once. We probably won't. In this year (2018), the reality of climate change has become increasingly visible, in multiple extreme weather events. Records have been broken throughout the year. Numerous environmental and scientific agencies have repeated their increasingly urgent warnings. To little avail. Governments, corporations and media have not responded in any meaningful way. All they seem to care about is economic growth, which is only making matters worse. It's as if we are on a Titanic, with lunatics on the bridge, urging one another to sail ever faster into a fleet of icebergs.

We ardently hope that these stories may indeed help raise awareness of the unacceptable risks we are taking with our world, our only planet. If not, they will prove to be not only cautionary tales, but visionary and prophetic ones, chilling descriptions of the new reality awaiting us and our children. We still have a choice, but the windows of opportunity are closing rapidly.


The End of Our World
the winning short stories and runners-up of the short-list